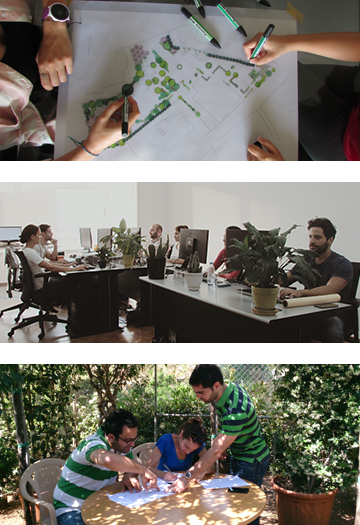 INTRODUCING SCAPEWORKS

A FRESH TAKE ON OUTDOOR DESIGN

We are a Landscape Architecture and Urban Design office based in Beirut, Lebanon. Since 2012, our team has been serving clients in Lebanon and the Gulf region on both public and private developments. As a team, our primary principle is to involve the client throughout the entire design, planning and construction processes. We find it essential to manage our projects through all their phases to ensure our vision is achieved and sustained in the final product. We are always on the lookout for innovative design solutions and celebrate the expertise our team consistently brings to the table. The team is continuously brainstorming which enables us to readily meet the challenges we are presented with in our projects. One of our priorities is to maintain a keen sensitivity to the environmental considerations of the dynamic socio-economic contexts that we work in.

Our philosophy from day one has been, "To always design and build aesthetic, ecologically sensitive and functional outdoor living spaces." We believe that the relationship between people and the environment should be simple and obvious. It is our goal to facilitate a unified and balanced relationship between the people and their landscape, while achieving the needs of both.

Our team prides itself in being a leading provider of quality landscape development. To us, delivering an exceptional service means selecting appropriate materials, focusing on details and respecting the agreed timetables and project schedule. We offer a performance-driven approach, and are constantly exceeding our own expectations through the innovative landscape solutions we deliver.

We also have had the privilege of working with top regional consultants on city-scale projects. Our repertoire of collaborative work is helping redefine the potential that sustainable landmark projects hold in the Gulf region. An example of this has been our work on many governmental housing projects in Qatar and the Kingdom of Saudi Arabia as part of the countries' national development strategies.
This is a boxed content block. Click the edit button to edit this text.
6 REASONS TO WORK WITH US
1
Creativity is our fuel
We cultivate the ability to come up with innovative concepts never stopping at the obvious or the impossible.
2
Teamwork comes first
The best designs come from good collaborative efforts, which is why we base our entire design process on sharing ideas, avoiding jargon and assumptions.
3
We believe in listening
As consultants, we always welcome the thoughts and opinions of our client during the design process, increasing a project's success ratio by understanding its decision making criteria.
4
We're environmentally conscious
Our projects are designed for the future. They're well integrated in their context by being environmentally sensitive, requiring minimal maintenance and having an optimal life span.
5
We're cost effective
While we're sharp problem solvers, we don't rely on it but rather count on our ability to identify problems before they arise, thus proposing upstream preventive solutions.
6
We're passionate
It's not just about the design process, it's also about unfolding a story by taking it from paper and making it real. We always like to check on projects even much later than project completion.